Roundup: 7 ways to play with the asymmetry trend this spring
Just a few weeks ago, I was prowling the vegetable bins at a local grocery, carrying an assortment of products with one arm and trying to pry open a plastic produce bag with two dry fingers. (If you have ever tried to do this while wearing a mask and without licking your thumb first, you know the struggle.) I was staring at the lip of the bag with the concentration of a surgeon on the job when a young gentleman came up to me and said, "This is so confusing." He began, noticing my confusion at his confusion. "I thought you were two people. Those pants, you know." I was wearing two-toned denim with one white leg and the other a medium-wash blue. At that point, I'd gotten a few comments from strangers about my pants. Most were positive, one wasn't — and then there was this guy's, which was vaguely in between.
If you follow my Instagram page, then you probably already know this — I'm an avid fan of unbalanced, perfectly imperfect pieces. I love playing around with quirky clothes that imbue my outfits with a sense of casual, artsy fun. Not to mention, it's a good way to silently show off my personality, especially during a time of limited interaction and social connections. What I don't (or am too shy to say about myself with words), I try to express through clothes. That is, at its core, what fashion is there for and why I personally love it.
As designer Rick Owens told Vogue: "We can think of clothes as frivolous or we can think of clothes as one of our first steps towards communicating with other people, which is a powerful thing." He then added: "Clothes don't change the world, but they're part of an attitude that influences the way people think. They're signifiers, little messages people send to each other …" I couldn't agree more.
The reason I'm talking about self-expression and fashion here is because asymmetrical pieces often have a shock factor, and when done right, they almost always guarantee a smile from passersby or at the very least, confusion. One other reason I'm focusing on asymmetry today is because it's very much in vogue. For its 2021 spring collection, for example, Rick Owens served up major asymmetrical moments with dripping knits and funky sleeves, Vejas and Mugler touted looks with sexy twists, and Coperni played with unbalanced tailoring and funky necklines. That's just naming a few.
One more perk with asymmetrical designs is that you hardly have to put in any effort at all when it comes to styling these pieces. Most of the time, all you need to pair them with is something simple and plain — they're interesting enough and can do the heavy lifting all on their own. So, if you're ready to jump on the asymmetry bandwagon, I'm going to provide a handful of ways I've toyed with the trend before, plus a few products you'll want to scoop up.
1. One-sleeve tops or one-leg pants
The former is probably easier to find than the later, but both are cool and not-so-subtle ways to showcase your love for asymmetry. Lots of stores now carry these pieces, but if you have a trusted tailor around, you can always repurpose some of your old closet favorites.
Recreate this look:
Bardot
Asymmetric Knit Turtleneck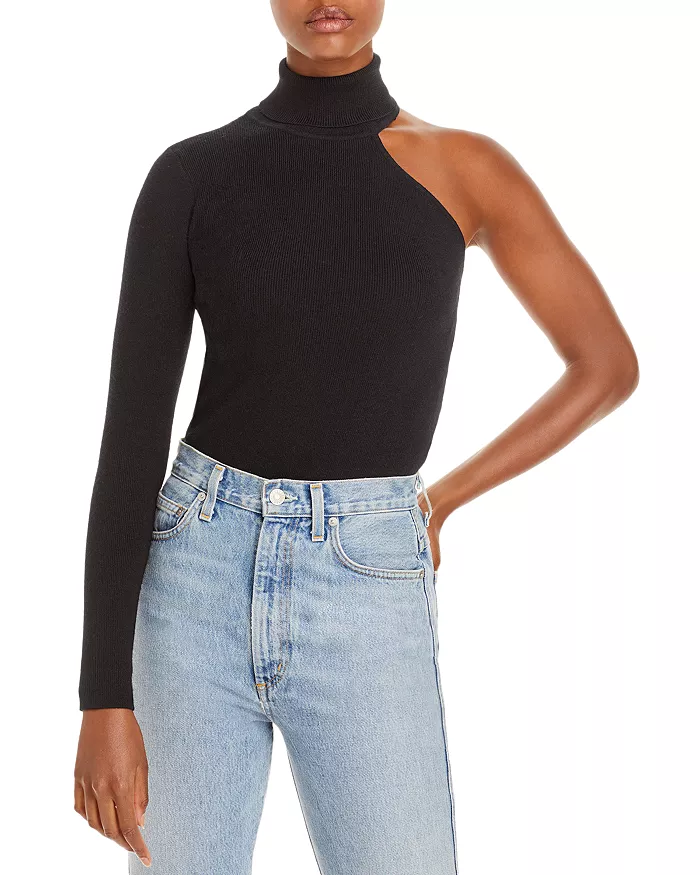 2. Bias cuts
Bias cuts have been around forever, but I've been seeing a lot more of these pieces crop up in some of my favorite stores. Here, you'll see how I styled my Source Unknown knit by playing around with layering. (And yes, I know this could easily be tucked into the first category!)
Recreate this look:
Source Unknown
Knit turtleneck scarf
3. Two-tones
I wrote a whole piece about two-toned shoes before, but I'd love to add a footnote here that shoes aren't the only pieces you can color-block with. Those pants that caused a bit of grocery-store confusion? Well, here they are!
Recreate this look:
Alice & Olivia
Boyfriend jeans in two-tone blue
4. Asymmetrical necklines
This is probably the most subtle (but still super cute) way to weave this micro-trend into your outfit. Angular cutouts are pretty easy to spot when shopping online — and they're even easier to style. Just throw on your favorite pair of jeans, and Voila!
Recreate this look:
Ganni
Tiger-print stretch-silk blouse
5. Skinny/Wide leg
It's tough not to do a double-take when you see these pants online. Talk about wow factor, am I right? But I saved this piece as soon as I laid eyes on it and waited for it to go on sale — and it did. It took friends and family quite some time to get adjusted to the quirkiness of it, but now, it makes my mom smile. Life's short. Just have fun with it.
Recreate this look:
Ksenia Schnaider
Asymmetric Skinny & Wide-Leg Jeans
6. Funky prints and patchwork
Visually interesting art prints create asymmetry by default. I particularly love art prints, and I wrote a separate blog post about this micro-trend and a few pieces you can pick up in case you do, too. The pants I'm wearing below is sadly sold out, but I've included a pair of patchwork pants that'll help you serve up major asymmetrical vibes.
Recreate this look:
Asos
Wide leg denim patchwork jeans jacket
7. High-low hem
Hi-low hemlines are probably one of the oldest tricks in the book, and the trend definitely has well passed its moment in fashion (though, who knows? It might make a resurgence). That said, there are some ways you can still try your hand at it, and if done right, it can still make quite an impact. Case in point: This hi-low dress
Recreate this look:
Asos
Cowl neck drape detail dress with open back